Travel industry
New opportunities
Reach the next generation of travelers with Camino Network. The ecosystem is designed to connect you with a new wave of tech-savvy, conscious travelers looking for unique and personalized experiences.
Trusted by 150+ industry leaders
Explore all 150+ partners
Global Travel Today
The travel industry suffers from a slow pace & innovation with decades-old gate-keeping technology platforms, a myriad of bilateral agreements, and the rigidness that comes with the resulting oligopolistic structure.
Centralized supply chain
Delayed time-to-market
Fragmented technology
Ancient legacy systems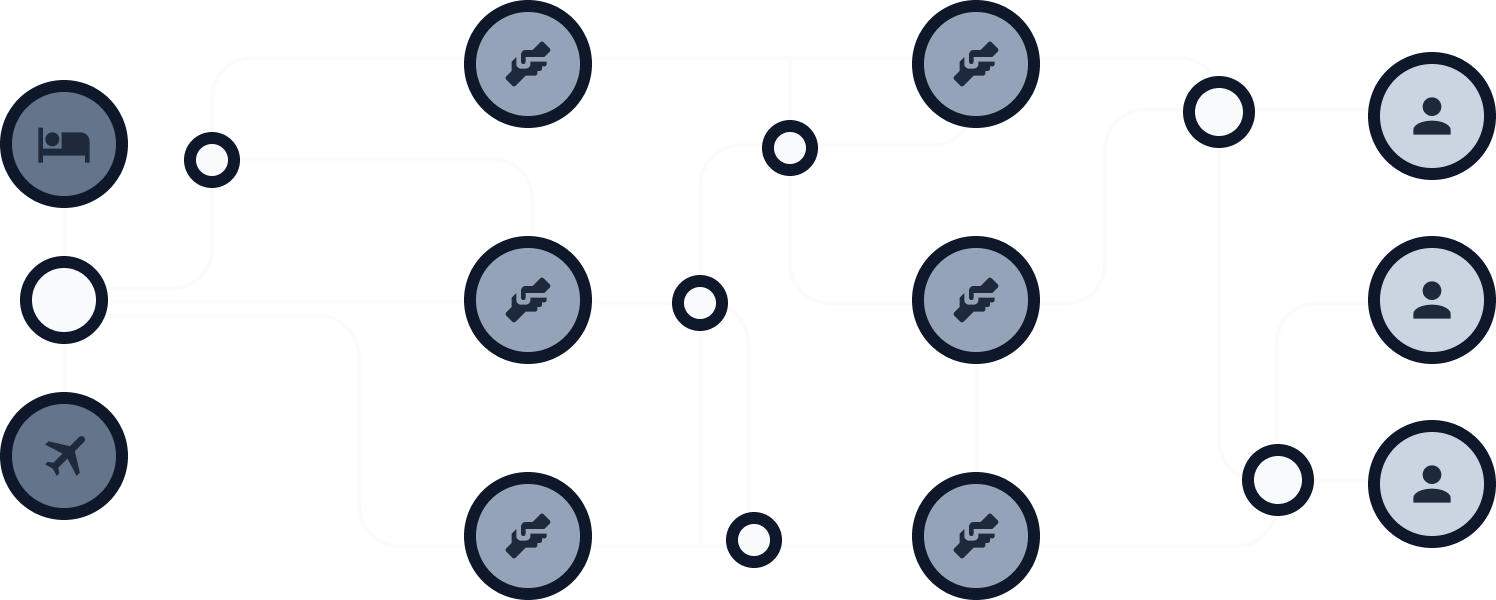 Global Travel Tomorrow
Decentralized governance
Run by industry players
KYC & KYB verification
Low transaction fees
Stable currencies
EVM compatible
Open-source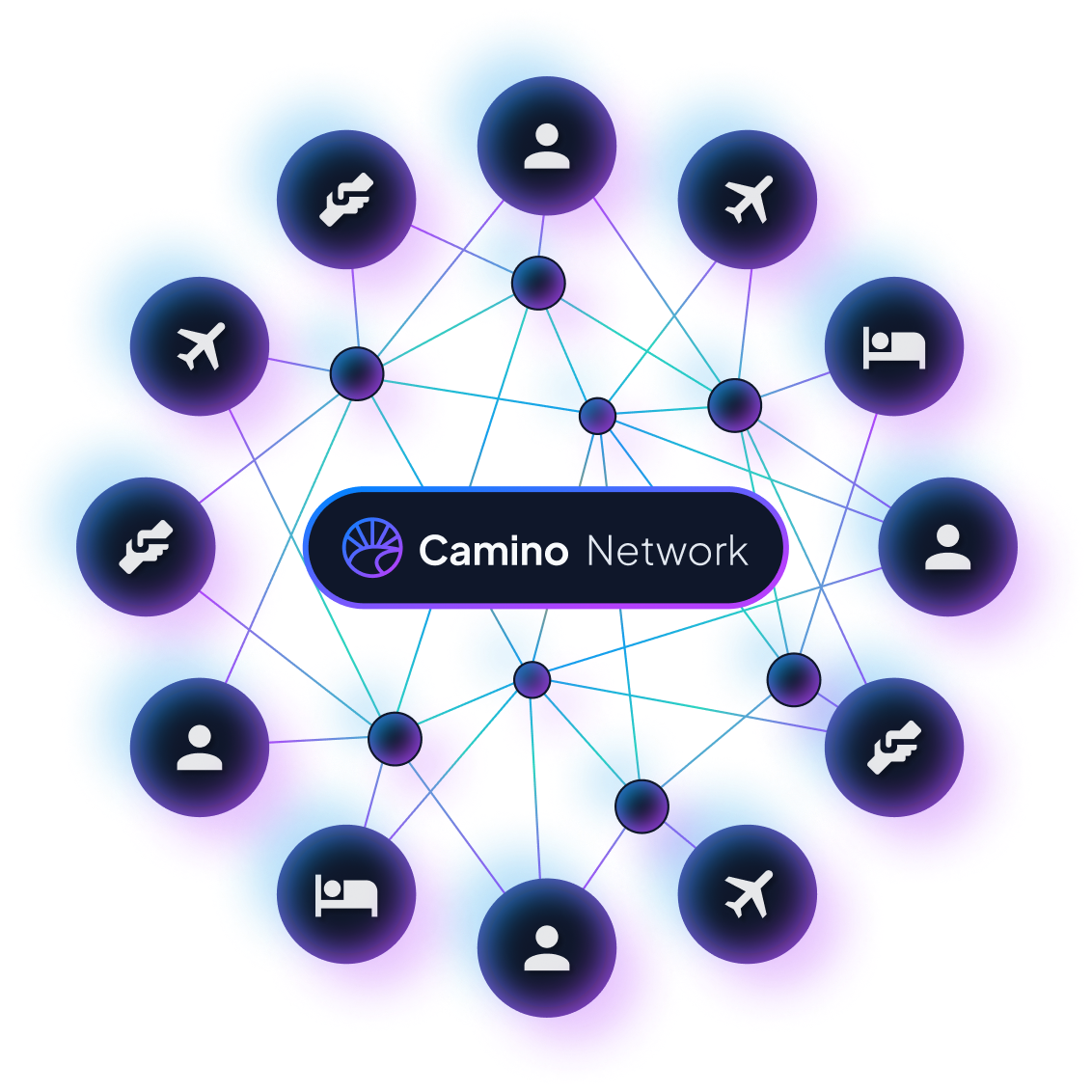 Unifying the travel industry with standards
One messaging standard built for and by the travel industry eliminates redundant implementation and development efforts while enabling new partnerships to be rolled out in minutes. By connecting to the Camino Network, you can say goodbye to redundant API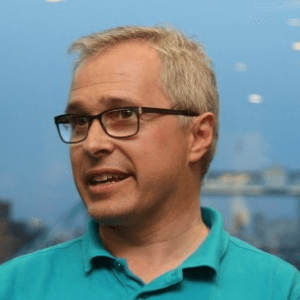 "A new operating system for travel is intriguing and presents a new opportunity for..."
Andrew Owen-Jones CEO BD4
Read more
"Web 3.0 has been talked about for some time, but it has been hard to find approaches that will make a difference. Chain4travel has assembled a network and a team that can bring a real difference to the industry. A new operating system for travel is intriguing and presents a new opportunity for participants at all stages of the travel chain to find and create new value. This is an exciting moment."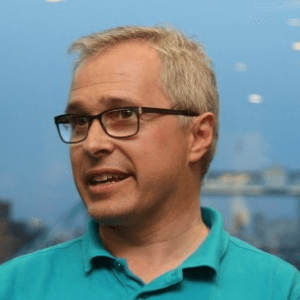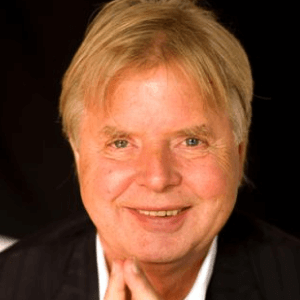 "Chain4Travel brings a real innovation that we haven't seen in the travel industry for a long time."
Karlheinz Kögel CEO holidays.ch AG
Read more
"Chain4Travel brings a real innovation that we haven't seen in the travel industry for a long time. The new technology will open up new possibilities to the travel industry, some of which we are already actively developing at Lufthansa Holidays on the Camino Network."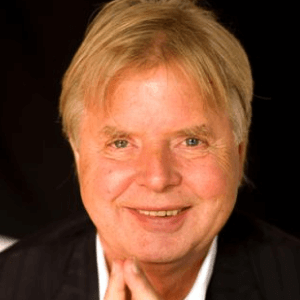 Karlheinz Kögel
CEO holidays.ch AG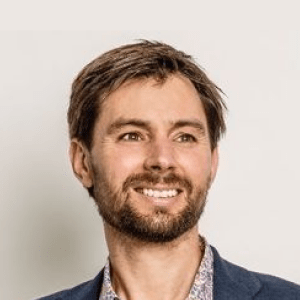 "It's exciting to see the travel sector being transformed, enabling more innovative and..."
Dave Rouse CEO CarbonClick
Read more
"It's exciting to see the travel sector being transformed, enabling more innovative and efficient ideas to surface and materialise. CarbonClick has reinvented carbon offsetting as part of a growing sustainability movement in the industry, and we can see the enormous potential in working together to make climate friendly travel accessible, transparent, reliable and secure."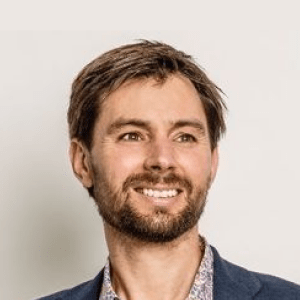 Dave Rouse
CEO CarbonClick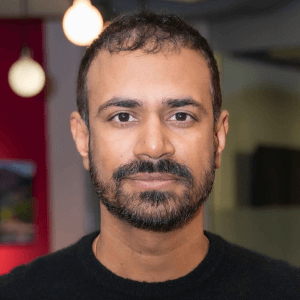 "Chain4Travel shares Xeni's vision of solving these critical industry problems using Blockchain technology."
Sachin Narode CEO Xeni
Read more
"The travel industry faces unique challenges with inventory distribution, payments, and data transparency across counterparties. Chain4Travel shares Xeni's vision of solving these critical industry problems using Blockchain technology. Xeni is excited to provide the payment settlement decentralized application on the Camino Network and join C4T at the forefront of Web 3.0 innovation in the travel industry."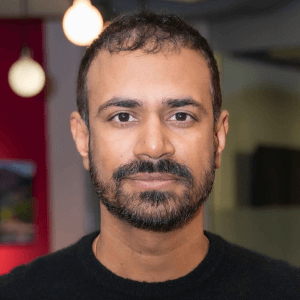 Use cases on Camino
Trading
Trading can be done in various directions: B2B, B2B2C, C2C, and B2C. Blockchain enables automation, cost-efficiency, and flexibility in today's rigid trading process.
Payment & settlement
B2B/ B2C settlement in travel is complex, time-consuming, and costly. Settlement and payment applications in the Camino Network will streamline travel services' booking and paying process and enable worldwide peer-to-peer transactions with extremely fast reconciliation and much lower transaction costs.
Token rewards
Token rewards (fungible and non-fungible tokens) are there to incentivize people using various services on the blockchain, such as bookings, reviews, referrals, sharing data, or other incentives.
Token gated access
With an NFT, a unique digital asset, access to events or services can be granted as a utility to the NFTs. Moreover, users can be tracked where they get access and to what time.
Contracting / purchasing
With the help of web3 technology, such as smart contracts, the automation and security along the contracting/ purchasing process can be enhanced.
Information services
Blockchain enables traceable information and rewardable reviews. Also, travelers can send their information to a specific wallet, allowing them to review, for example, a particular hotel room.
Tracking
Using blockchain for tracking means having one single source of truth. This opens up new potentials when it comes to tracking of lost baggages or visitor streams.
Locking systems
Locking systems can become more efficient and save. A physical key could become a thing of the past.
Wallet rates / Personalized offers
Wallet rates use cases will enable personalization of offers with direct rates from the business/service provider.
Hotel / roomtype mapping
Non-bookable content, such as reviews and information on the room amenities or view, is essential for the booking decision. This use case provides high personalization of room offers or extra specific room types by allocating a wallet to each room in a hotel.
Voucher
Vouchers can easily be added by businesses and redeemed by the user. The setup is simple, just like the implementation in current business models.
Climate compensation
Blockchain helps monitor and report emission reduction trading due to its inherent immutability and transparency characteristics.
Disaster information
Companies can demonstrate their concern for the safety and well-being of their customers by providing up-to-date information on blockchain technology. Thus the company becomes a trusted resource, letting the customers make informed travel decisions.
Gamification
Camino offers various possibilities to indulge in gamification of travel services.
Interlining
The sale process and customer experience can get more straightforward and enjoyable on Camino as all players are connected.
Reviews
Web3 technology enables the customer to actually own and control the created review. The customer could get rewarded for a shared review, and fake reviews could be eliminated.
Loyalty
The Camino blockchain offers the possibility for an application to effortlessly build a global or regional loyalty platform to welcome participation across different brands, all in the same network.
Digital collectibles
Travelers love collecting things from their trip, such as souvenirs and proof of travel. Therefore, a use case of digital collectibles is very interesting for additional income streams and customer loyalty. It can be adopted in variations.
User generated content
Users can generate content for various services or products on the blockchain and, at the same time, get rewarded. Once a wallet is created for a service, users can send information to this wallet and are incentivized to do so.
Reduction of API's
The offering and exchange of information get much more accessible, inexpensive, and safer due to the reduced APIs via blockchain.
Travel identity
Self-sovereign-identity will enable travelers to manage and secure their personal shared information, leading to increased economic efficiency and higher protection of personal privacy.
Automated complaint management
Complaint management could be connected to automatization and even compensation on another level.
Insurance policies
The existing trust gap between insurance providers and policyholders can get eliminated by automating all processes and trusting the decentralized network. It improves operational efficiency and also enhances the customer experience.
Get in touch
If you'd like more information about Camino Network, please get in touch. We would love to hear from you!
Camino Network
Camino is the travel industry blockchain. Fueled by the Camino token, it is offering a versatile network to expand current business models and to create new touristic products to delight travelers and business partners.